There are times when I question why I do
Kidstuf
. I mean, I gotta get up
so
early.
And there are times others question me about why I do Kidstuf. In some ways, it's theatre, in the same way that one would call a Kaiser Permanente show theatre, but it's not what one always envisioned when going to school. I know I figured I'd be getting paid six figures to do
Cherry Orchard
somewhere by now.
But when I ask myself that...or someone else asks me that...I can always point to this.
For this month, one of the "props" we're using is called a Grati-journal. You write down something you're grateful for. We got an e-mail with this in it...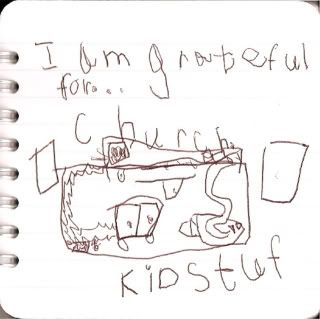 If you can't tell, the text is, "I am Grateful for Church" with a drawing of the Kidstuf stage underneath.
To be doing something constructive. That is what I'm grateful for.